Background
Edit
Personality
Edit
Original Series
Edit
Development in Springfield Bound
Edit
Relationships
Edit
Original Series
Edit
Addition Info
Edit
Character Trait Basis
Edit
Pebbles Flintstone (from The Flintstones)
Character Tropes
Edit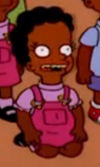 Flanderization: Being a baby and one out of eight octuplet children of the secondary Apu, with a few moments of fame, Uma receives this trope.

In the original series episode "The Sweetest Apu", when Uma says "let" as her first word, she makes a gaping facial expression in one frame. In Springfield Bound, Uma constantly makes this facial expression whenever she says the few words she knows: "let" and "doggie" (when pointing to Santa's Little Helper and facing the nearest adult or older child in front of her).
In the same episode, because Uma has the softest voice pitch of the octuplets and the one to be the least destructive or wild, Uma is flanderized to be the most innocent baby alive since Pebbles Flintstone.

Playing with Fire: Uma gains this ability in Springfield Bound X.
Likes & Dislikes
Edit
Springfield Citizens & Neutral Characters